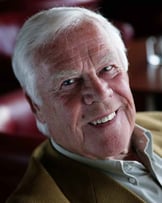 "My name is Rolf Holstensson. I was born on 17 November 1927 on a sofa-bed in the family home.
My father, Holsten, worked at the office furniture factory in Tranås. His salary was a meagre SEK 27 per week. For that, he had to work a 48-hour week."
This is the story of RH. A company from Småland that began with one man and his vision, but that soon grew into an entire family. An extended, committed and borderless family that today includes employees, suppliers and retailers around the world.
DISCOVER the history of RH with our 68 page book detailing the history, the life, and the legacy of Rolf Holstennson, who founded RH in 1977.
HEAR accounts of those who lived and worked alongside Rolf and his family as RH grew from humble origins to the leaders of ergomonic seating around the world.
SEE never before released photos from across the rich history of RH.